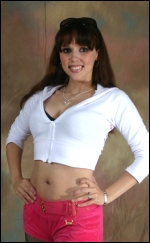 Noel Harlow's Stats...
Height: 5' 5"
Weight: 110
Hair: Brown
Eyes: Beautiful brown...
Hometown: Blue Ball, Pennsylvania (USA)
Years In Wrestling: 6 ½
Noel Harlow's Profile...
How It Started: I have watched wrestling for as long as I can remember. I remember getting up on Saturday morning to watch the Rock N' Wrestling cartoons, and trying to get out of going to church to watch GLOW and All-American Wrestling. I loved watching Randy Savage and Miss Elizabeth, as well as Sherri Martel. I always knew I wanted to be a manager. I sold promo pics for a friend's boyfriend at ringside. Then when I had the chance to take a few bumps in the ring, I was hooked. Billy Reil saw one of my modeling photos and loved it. He said this promoter was looking for new female managers, so he showed my picture to him and the rest is history. I learned all I could thanks to Sean Denny and Simon Diamond as well...and here I am.
Gimmick: The "Queen of the Catfight" is a sexy little bitch who gets everything she wants by using her "God given talents". And if she doesn't get her way she screams until she does! Noel also has a secret weapon known as "The Distraction".
Outfit/Costume: Noel is always is dressed to impress...and the more skin the better.
Manager Of: Niles Young; Derek Frazier; Rehobeth Beach Crew; Adam Flash.
Have Managed: Simon Diamond; Talia Madison/Velvet Sky; CJ O'Doyle; Honky Tonk Man; Mark Smart; Zac Conner; Bazooka Joe; Chris Wylde; Greg Spitz; Kris Krude; Ace Darling; Dirty Money; Roid Rage; Vinnie the Fixer; Danny Inferno; Wenzel (with Inferno as Hybrid); Dave Greco; Tony Burma; Dixie; Vic Devine; Special K (ROH); Mickey Whipwreck; Reckless Youth; Rockin' Rebel; Chris Wylde; Paul E. Normus; Chris Idol; Gavin Quest.
Biggest Allies: Niles Young; Derek Frazier; Adam Flash; Rehobeth Beach Crew; Foxxy Dreams; Sean Denny; Kameo; Shy.
Most-Hated Enemies: Anyone else who gets in my way or doesn't pay me!
Career Highlight: Winning the undisputed "Queen of the Catfight" title in a match against Becky Bayless and Miss Michelle; Winning the JAP bikini contest judged by Bam Margera; Forming Triple N with Niles Young; Helping Talia win the WEW Title; Helping Niles and Derek win their tag titles.
Favorite Wrestlers: My favorite pro is me and, of course, Niles. But I guess some others include: Triple H; Shawn Michaels; Ric Flair; Macho Man Randy Savage; Simon Diamond; Penny Banner; Bobby Heenan; Freddie Blassie; Moolah; Woman; Sherri Martel; Francine; Sunny; Chris Candido; Claudio Castagnoli; Adam Flash; Chris Hero; Drake Younger; Mitch Ryder.
Wrestling Ambition: To take over the world (insert evil laugh here).